Urban DESIGN
READ MORE
NEW COLLECTION
MINIMALISTIC DESIGN ELEMENTS
ADD TO CART
GLOBAL BRANDS
READ MORE
BEST INSPIRATION LIST
Curated collection of creative materials
ADD TO CART
Trends
MORE
NEW COLLECTION
inspired Lasting impressions that your home will love.
ADD TO CART
Having a Terrace house garden that is functional and beautiful is not going to mean a much bigger project Anymore , fixing up and maintaining your patch of the outdoors, no matter how tiny,i s no longer expensive and time consuming.Those with the determination — and the wherewithal — to turn a balcony, terrace or backyard into a functional outdoor area, however, say the investment is well worth it for a breath of air in a crowded city.
you can incorporate a terrace in a garden or backyard setting the reward is tremendous. When weather is pleasant you can use the setting of a terrace as an out-of-doors living area as well as for entertainment purposes. create a shady spot for dining, erect a pergola with benches with built-in storage, it is nice to have a terrace for mild temperatures as it makes the need to
transition inside during the colder, bleaker periods of the year all the more easy click to learn more on how easy it is to plan your makeover
engineered-wood-flooring installed on staircases can provide you with several advantages as a homeowner. Here are some of the benefits of using engineered wood on stairs.
wooden staircases are an extremely popular and stylish option at this moment in time.  With more and more people choosing wooden flooring for the main rooms in their home, these same people often look to extend this interior styling to their staircases.
If you're building a brand new home from scratch, you may well have opted for a solid or an engineered wooden staircase to be installed and have allowed for this in the design and planning. That said, if you live in an older property, your only option, if you want a solid or engineered wooden staircase may well be to clad your current staircase.
Cladding is the term used to describe the process whereby an existing structure is covered with a new material to create a whole new look without changing the original form or construction. Often used to describe the process of applying a new "covering" to a roof or walls, it is a term also used in flooring. In this case, it involves the application of engineered wood flooring to an existing or original staircase to give it a whole new look.
If you choose to clad your staircase with engineered board, the end result will look exactly the same as if you select solid wood board, but with one exception. Because engineered boards can't be manipulated in the same way as solid wood to create the edge, or "nose" of each step, you'll need to install an engineered wood "nose" on each step.
Calculate the wall space to be covered in square feet. Measure a wall from ceiling to floor and horizontally from corner to corner. Multiply those two figures. Repeat for remaining walls. Add the totals.
If you are covering a ceiling, calculate the square footage by multiplying the width of the floor by the length.
Divide each figure by 50 — the average square footage in a standard single roll of wallpaper.
Subtract from the total one-half single roll for each window and door. The resulting figure is the final number of single rolls needed. Always round fractions to the next highest whole number.
Types of Flooring
Most flooring falls into one of the following types. The type you choose will depend on your needs and budget—not to mention your personal style and aesthetic.
Types of Flooring
Most flooring falls into one of the following six types. The type you choose will depend on your needs and budget—not to mention your personal style and aesthetic.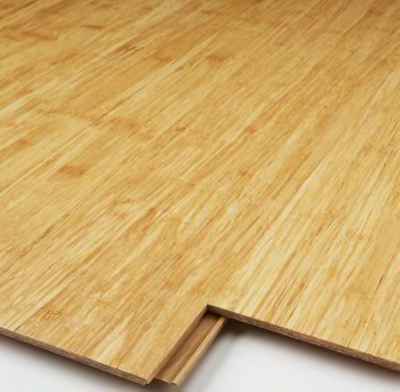 Solid Wood Flooring
Pros: Wood has a natural warmth and impressive wear resistance, and it can be sanded and refinished several times. Prefinished floors can hold up better than those finished on-site, and their warranty comes from the factory, not the installer, giving you the reputability of a big company standing behind its product. With a private installer, you might have a tougher time getting a refund if your floors are installed improperly.
Cons: Solid wood will expand and contract with varying humidity levels and can dent easily. Some species can show wear quickly and become discolored from sunlight. Note: Unfinished flooring costs less than prefinished, but higher installation costs can offset savings. Wood flooring is not a good choice for basements and other damp spaces.
Installed cost: INR 750 to INR 1250 per square foot.For More On Solid Wood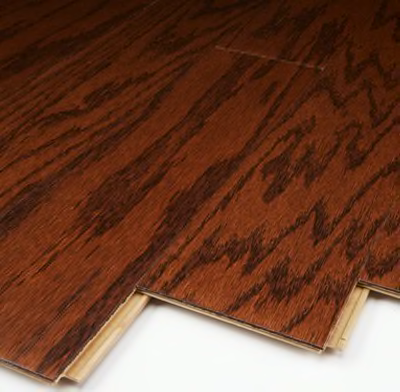 Engineered Wood Flooring
Pros: Because engineered wood is typically made of thin layers of wood sandwiched with adhesives, it can usually withstand higher levels of humidity and would be less likely to expand when compared with solid wood flooring. This flooring uses a thin veneer of real wood or bamboo over structural plywood, making it a cost-effective choice. Well-installed, high-quality engineered wood can be as durable as solid wood.
Cons: Most engineered wood doesn't wear as well as solid wood or laminate. It also dents easily, despite differences in wood species. Depending on the thickness of the veneer, some engineered wood flooring can be refinished as many times as solid hardwood flooring. However, most can be refinished only once or twice, and some can never be refinished. If you think you may need to refinish your engineered wood flooring, check with the manufacturer or retailer before you buy.
Installed cost: INR 300 to INR 850 per square foot.For More On Engineered Wood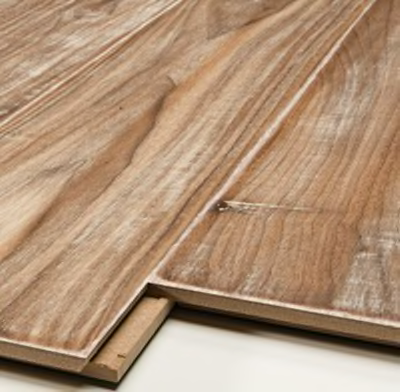 Laminate Flooring
Pros: Constructed of dense fiberboard with a photo beneath a clear-plastic protective layer, laminate can mimic almost anything.
Some brands use a soundblock backing underneath, which they claim can help muffle sound. The best laminates resist scratching and discoloration from sunlight better than most wood products. It can be extremely tough stuff.
Cons: The repetitive pattern can compromise realism (read: look fake), so when installing, mix planks from different boxes for a less repetitive pattern. In terms of durability, you might be able to touch up minor flaws, but you'll have to replace the flooring once its top layer has worn through, because it can't be sanded like wood.
Installed cost: INR 95 to INR 250 per square foot For More on laminated wood
When I first started working with laminate flooring a decade ago (not a vinyl-based product, but made with wood fiber boards, usually called HDF, High Density Fiberboard, or MDF, Medium Density Fiberboard), I thought all of the products looked great, but after a couple of years of looking at samples representing millions of square meters I started to become more discriminating in my tastes.
There are several qualities that distinguish inexpensive laminate flooring (the type that perhaps you "can instantly tell" from photos) from the floors that can be difficult to distinguish from real wood floors.
First is the print.
Some products will print pictures of planks, usually two or three strips wide, and after I became more expert at judging the aesthetics of laminate planks I thought this look was inferior to decors where the print and the plank were the same size, i.e. no printed strips lines or printed planks.

Second is the texture.
Usually the more inexpensive laminate floors have a "run-through" texture, a random, low-relief texture that imitates a brushed wood texture or a rolled lacquer texture but does not match any of the printed wood grain features of the décor. The better products will have textures sometimes refereed as E.I.R surfaces where the printed wood grain knots and swirls will have matching textures, raised or indented, and will also sometimes include more extreme textures like the "hand-scraped" product a texture meant to replicate an old handcrafted floor that was finished with draw knives.

Thirdly is repetition of patterns.

The more inexpensive laminate floors have more repeats of the same wood grain pattern (I've seen as little as two unique planks from some manufacturers), whereas the better products have many more unique prints to make it more difficult for the human eye to start picking out the repeating planks in an installation (a favorite hobby of mine). this is called Synchro tech by some manufacturers
Fourth is the core .
Solid wood has the highest strength as compared to other flooring but is usually very expensive . Among-st the engineered laminated Wood flooring the core structure determines the strength and longevity of the floor . HDF or High density fiber core is the most durable followed by MDF. Particle board is weakest engineered laminated wood thus the cheapest , the surface tends to deform in the cheap core products after a short period of usage , also the change in temperature also tends to de laminate the bonding of inferior core products as they are prone to buckling and warping,
From hardwood floors to custom shelving, there are so many ways to bring the warmth and natural feeling of wood inside. But the homes featured in this post manage to go above and beyond, highlighting the beauty of natural wood by turning into unique accents through the use of wood slats. While each Space uses the slat design in slightly different ways, each time it brings a special, interesting look to the room. This versatile line of linear planks offers a multitude of finish options and easy installation methods to seamlessly create a continuous, linear visual.
Creating Happiness through Woodworking
Thermally modified wood, is wood that has been modified by a controlled pyrolysis process of wood being heated (> 180 °C) in absence of oxygen inducing some chemical changes to the chemical structures of cell wall components (lignin, cellulose and hemicellulose) in the wood in order to increase its durability.
As modern-day apartments replace big houses, the balcony is the only space that connects you with the outdoors. It is in the balcony where you can peek at the open sky while getting some fresh air after a long day. However, in many houses, all the focus goes in decorating the interiors while balconies lie unnoticed. This is because many people consider it as an additional expense that is not worth it.
The truth is you don't have to spend a lot of money to decorate the balcony space. All it needs is a little creativity and an initiative.
Today, we bring to you some easy balcony makeover tips that can transform your balcony into a chic space
Assessing the space first
Similar to designing any other space in your home, first analyse the balcony and assess what is possible in the space available. Is it large enough to put a small coffee table and a couple of chairs? Does it get sunlight? Is it possible to convert it into a balconygarden? Is the balcony too small to have any of the above things?
Choosing a Colour palette and Design Theme
Before designing a balcony, it is essential that you select a colour palette. Considering that most balcony designs include plants keeping different shades of greens and a base colour of brown is a good idea. .If your home is decorated in a modern or minimalist style, then you should carry through th same style to your balcony by choosing straight lined planters and furniture. If your home has a classic style, then carved or round planters will look more in sync with the rest of the decor.
Upgrade the flooring
you may need to change the flooring, wooden or WPC deck tiles are an excellent option. They won't cost too much, if your balcony isn't large. The advantage is that you can install them over the existing flooring.in large balconies a combination of good quality Artifical Turf and Decking is a wonderful option If you plan to have balcony garden plants, ensure that the area has proper drainage, as the last thing you need is for stagnant water to damage your wooden deck flooring.
Optimize the Walls
In some balconies, the wall space can be extremely limited, so you should design the area to optimize it. If you are looking for ideas on how to decorate balcony walls, the options include creating a vertical green wall or painting a mural or natural bricks . You can add wall art to the wall to accentuate to the space , storage spaces can be incorporated by adding hardwood box benches with concealed storage space , as may people use Balconies to store household /garden tools .For green walls Very Good Quality artificial vertical Garden panels are available,ensure that the Green wall panels are UV certified for outdoor use
Attach planters to balcony railings and walls
If you crave for a balcony garden but lack space, you can attach planters to balcony railings. and walls , Planters will help you have the green element while giving the look and feel of a vertical garden. And the best part is that planters are very affordable and look beautiful too.

Add natural elements
Using natural materials for furnishing and decorating the balcony space can make the place look lively and add a natural feel to it. Wooden planters, Wicker chair, clay plant pots, distressed tea trunk table, twisted plants, and stone chips are examples of items that can be used to add the natural design element in the balcony .
Use the angles
If your balcony space is not uniform but has awkward angles, you can use it to your advantage. One good way of using weird angles is to hang up a hammock or also a bench with storage It will look great and give you an excellent space for relaxing as well. Alternatively, you can place a Modern Design comfy chair in the corner and create your own cozy nook
.
A perfect balcony makeover can be a challenging task, especially in a small space. Working with a professional Landscape Consultant or designer will ensure that you optimize the space to create a relaxing oasis to which you can retreat every day.